Some investigator folks with whom I've shown this tool were impressed by at least one of its capabilities, and I will briefly describe them to you.  FastStone Capture isn't just a screen-grabbing software, it's actually an artist's palette for creating any type of training or demonstration media, whether it's pictures or video-narratives.  It is available for download from FastStone Soft as shareware.  You can download and try it full-featured, no ads, no spyware for 14 days before paying a very modest $19.95 single user license with lifetime updates.
Now that we have that out of the way, I can now convey a small portion of what this software can do

When you run FastStone Capture, this is the menu that appears.  The icons on the left all are specific types of screen capture:
Capture the Active Window (Alt-PrtScrn)
Capture the Window / Object (Shift-PrtScrn)
Capture Rectangular Region (my favourite because it usually eliminates the secondary step of cropping the picture, and they have a special zoom in feature that can get your crop down to the pixel-level for close cuts)
Capture Freehand Region (draw around something in a picture to avoid the unwanted background)
Capture FullScreen (PrtScrn)
Capture Scrolling Window (really useful for capturing a Facebook profile that goes for 10-20 pages on your screen all in one continuous JPG file which proves that the content on the page came from your target's Facebook profile because his name is at the top of the page and the "evidence" is on page 8.  Yes you could print it but then you'd have to annotate it with a pen and then re-scan it back into JPG format)
(not in the picture above) Capture Fixed Region (useful for framing a picture for a blog posting)
Screen Recorder (favourite which captures a screen video narrative in a quick and dirty way – not as good as Camtasia, but at a much lower price)
Once you take the picture into FastStone, you can then do many things with it. My apologies for the lousy picture quality: FastStone intentionally gets out of the way when you press PrtSc so the only way I could get the FastStone menu up was to snap a picture of it and send it to myself.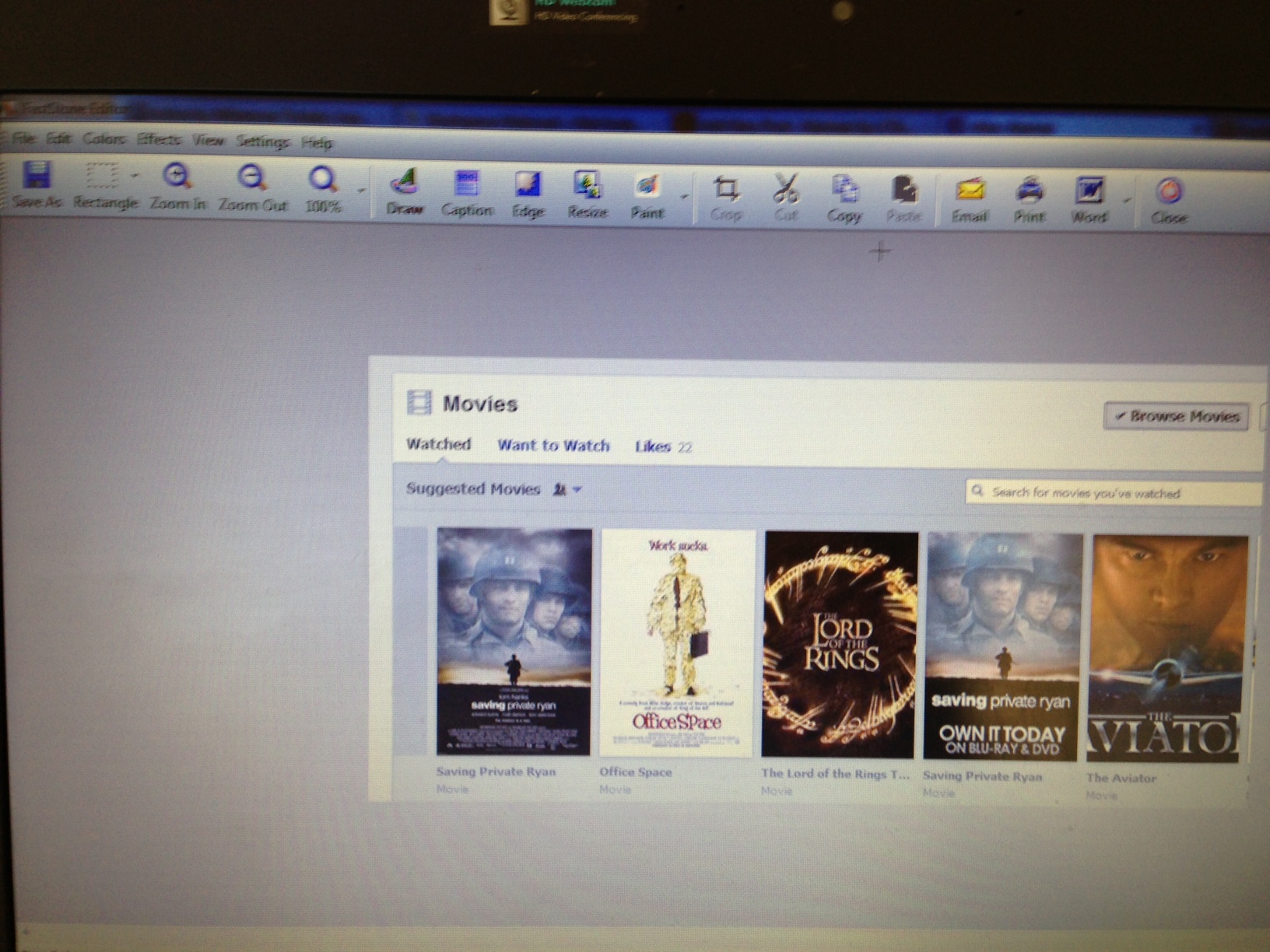 Naturally when you're putting a tutorial together you will click Draw to take you into the Palette section.  Many tools are there to draw, erase, write text, text boxes, text boxes with rounded corners, add effects, frame, filled frame, blur, smudge, and more.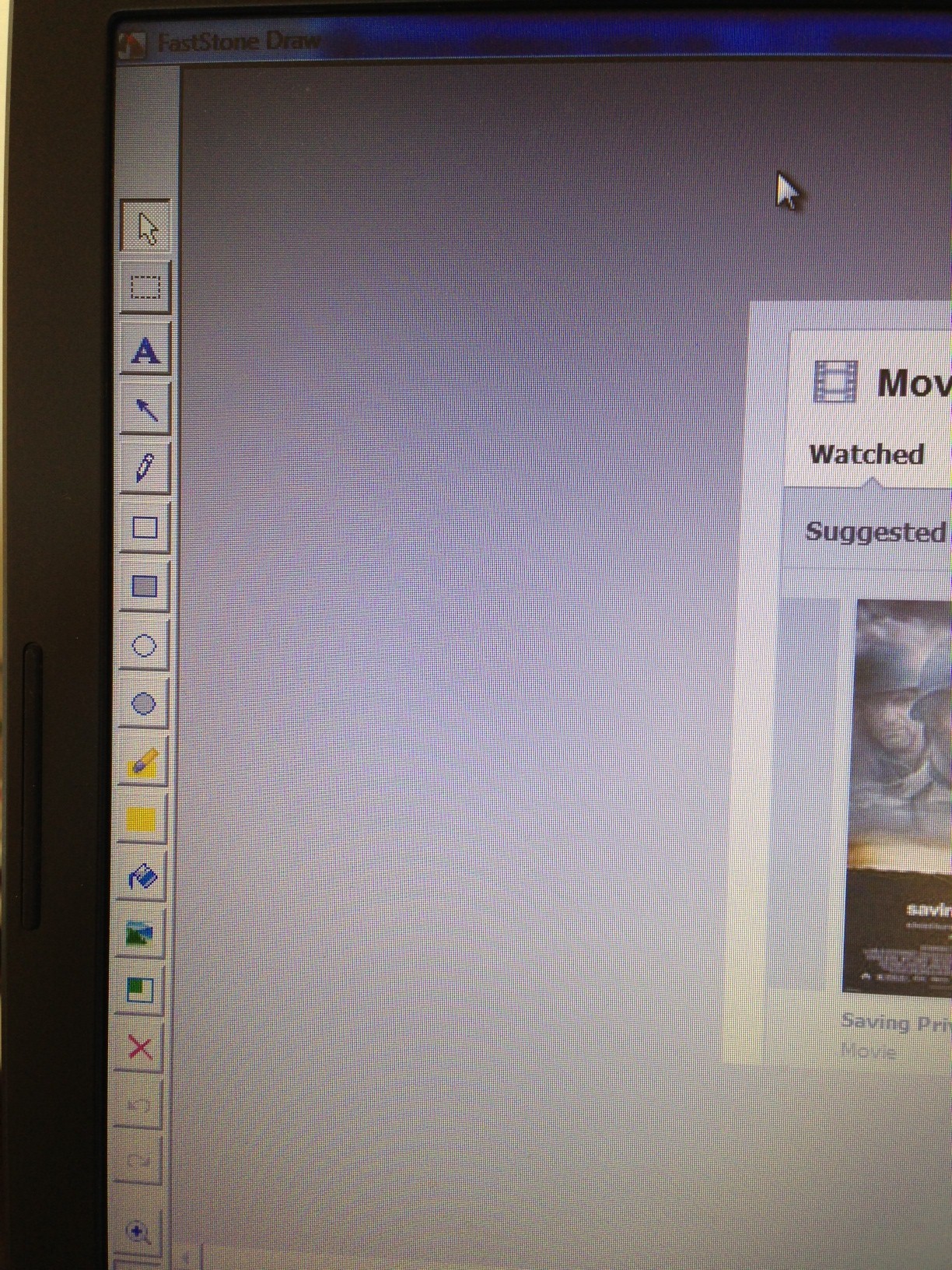 Below is an example of a finished product I created in literally 30 seconds.  Notice the 50% opaque text box, the rounded corners and the drop shadow on the arrow.  Try doing that with MS Paint!!!
FastStone Capture wins hands down over the primitive competitors built into Windows including the Snipping Tool which shipped with Windows Vista onward.  I recommend you get your own personal license that you can take with you wherever you go, because it makes it really simple to have really professional-looking training videos, tutorials walk-throughs and demos.  The value it gives you in looking professional far exceeds the $19.95 license cost.