Many municipalities and counties are considering what to do regarding short term vacation rentals in their neighbourhoods.  Here are some reasons in favour of a regulated, licensed environment:
Level the playing field for the Hospitality Industry
AirBnb is currently seeking funding at a valuation of $30 Bn, which puts its valuation larger than Hilton Worldwide Holdings.  The other big players in this space are Expedia (which owns HomeAway, VRBO and VacationRentals.com), and TripAdvisor (which owns Flipkey), and many others are popping up that cater to specific niche markets.  Hotels have been collecting and remitting lodging tax dollars for many years, and to have new online entrants where owner/operated properties are not required to do the same makes the playing field uneven.  Even within the short term rental industry itself, some owner/operators are also law-abiding and do collect and remit tax.  On top of the tax there is also a historic licensing requirement to ensure compliance to building code, health and safety, noise ordinances, subsidized housing and other municipal issues.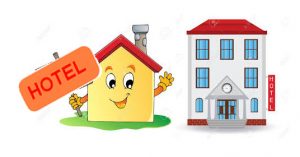 Ensure the Right Amount of Tax is being paid
Here are some recent results from recent analyses produced by the Harmari Taxcrawler involving tax discovery and compliance in the short term rental / vacation rental industry.  ROI calculations may vary depending on the goals of the initiative whether for tax collection or for licensing compliance.
| Region | Percent Unregistered | Estimated ROI |
| --- | --- | --- |
| Gulf Coast USA | 10% | 400-800% |
| Northeast US Cottage Country | 20% | 500-1000% |
| Alaska | 15% | 300-600% |
| Historic Desert City | 15% | 300-600% |
| Northeast US Major City | 6.7% | 400-800% |
There are literally dozens of different taxes and levy rates applicable depending on the city, and county.  So part of the tax collector's effort isn't necessarily to ferret out tax evaders, as much as it is to educate and raise awareness on the right amount of tax to pay.  There are many GIS-based tools out there cities can procure that can make this very easy to do for the average owner/operator without any mistakes.  We strongly advocate that as a solution to boundary condition issues where one side of the street is one tax, and the other side of the street is another tax.The STR platforms can also make this very easy to do for all their clients instead of passing that burden directly to the owner/operators.
Let existing enforcement tools do the work
A very typical scenario at a City council-members meetings a bunch of angry citizens "with pitchforks" complaining about noise, parties, vandalism and garbage related to a short term rental property nearby their own.  A second major concern are in touristic destinations where STRs are prevalent is that the rent for seasonal or temporary workers is too high for them to stay.  The knee-jerk reaction by council is to ban STRs without carefully thinking through the pros and cons.  A ban will force STRs to "go underground" by strategically wording their ads or posting their ads outside business hours.  The advantage of allowing a licensing and permitting structure is you can revoke it with sufficient evidence of bad behaviour.  Simple things like posting the address and phone number outside the STR makes it easy to respond to noise issues for the owner/operator to resolve immediately since it is their burden to do so lest their license be revoked.
If your jurisdiction is considering a compliance or tax discovery program, Taxcrawler can be custom tailored for your needs.  Even if your jurisdiction already has a heavily enforced, aggressive code enforcement or compliance unit, there is still benefit to be had by leveraging the automation and data matching built into the Taxcrawler product.  Read more about Harmari for Short Term Rental Compliance