Custom Columns is a valuable new feature in Harmari Search, which will open up the metadata associated with Craigslist ads into a tabular format making it easy for compliance investigations.  You can go with our recommended presets, or select your own columns in our easy selection interface.  If you make a mistake, no problem; simply click Reset to Default to restore the factory default.
Here are some default "presets" on column data that will help investigators of a specific area.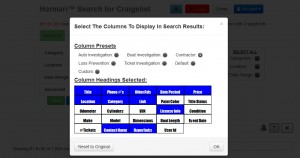 Contractor Services preset to help identify unlicensed home improvement contractors, or other professional trades and services like cosmetology, massage therapy, etc. Columns include license info, hyperlinks, and contact name.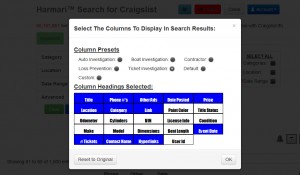 Tickets For Sale preset to help find fraudulent e-ticket sellers, and fraudulent online ticket websites. Columns include event date, number of tickets, and hyperlinks to websites.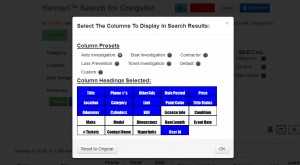 Auto For Sale preset for Auto Theft, Odometer Fraud, Title Fraud, and Curbstoning. Columns include color, VIN, mileage, title status, and other key fields.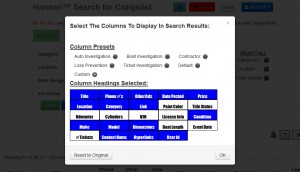 Retail Loss Prevention preset for fighting Organized Retail Crime. Columns include contact name, make, model, dimensions, hyperlinks, user ID, and item condition.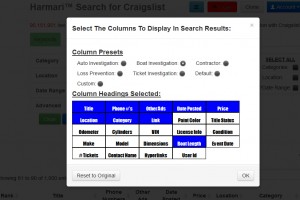 Boats For Sale preset to help find stolen boats or help insurance investigations into boats. Columns include boat length.
Custom Columns is not supported for users of Internet Explorer 8.  As of January 12, 2016 Microsoft is dropping support for Internet Explorer 8 (IE8) as part of its Windows 7 desktop OS support.  Read More at https://support.microsoft.com/en-us/gp/microsoft-internet-explorer