Restaurants, bars and night clubs do not have a good history of tax compliance. Furthermore, software tools such as zappers make it easy to make sales transactions disappear. But now you can have independent revenue estimates using social media metrics, and business background information integrated into one user-friendly report.  Reduce your audit department`s need for foot-patrol audits. Take advantage of this tool as the ultimate anti-zapper to identify under-reporting or completely non-compliant venues and restaurants.
The powerful "checkins" metric found on sites like Foursquare give real numbers on foot traffic entering a restaurant.  Further reinforcing the power of checkins is a recent survey that found 18% of adults with smartphones are using checkins. Regardless of the payment method used, a checkin is still a checkin. Secondary metrics, such as reviews, favourites, and likes also helps calibrate popular spots where a potential reporting gap exists.  Use the powerful Zipf's Law (read:reply:author ratio = 100:10:1) and this report to predict how many restauranteurs are compelled to visit a restaurant based on a review.  Third, automated analysis of the text of each review can yield useful clues, such as abuses of liquor license, capacity, busy hours, etc.  The Harmari Doorman gives you a comprehensive, independent, quantifiable estimate of a restaurant's revenues.  The first screenshot is a table of all restaurants listed in an urban region in the US: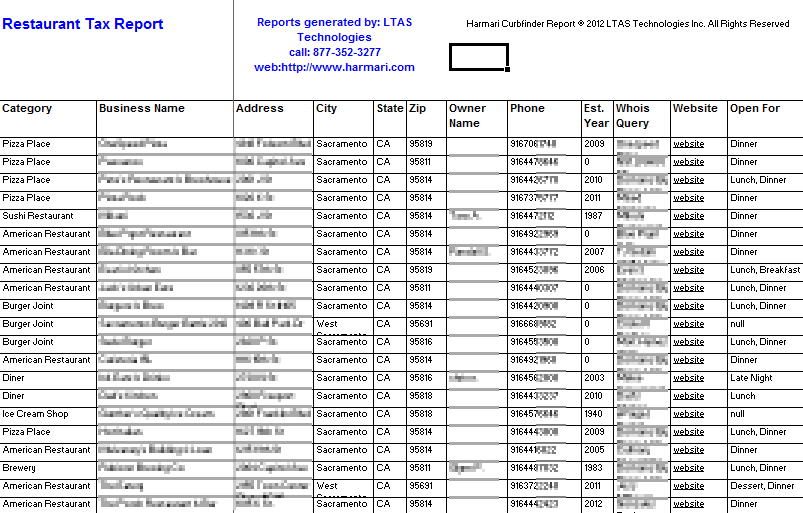 The second screenshot continues to the right on the same table, which includes vital operational details of the restaurants, including hours of operation per week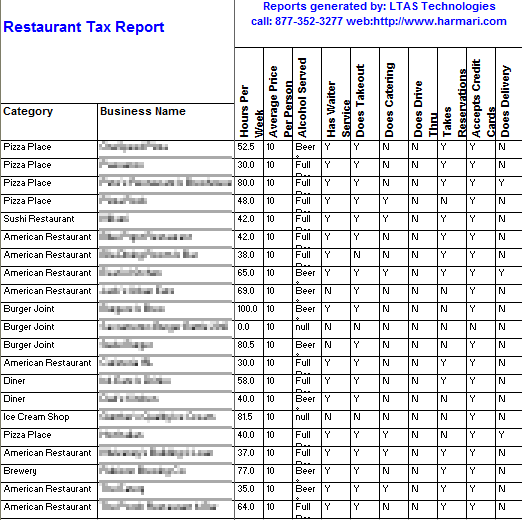 The third screenshot continues further right, with the social stats found on each of the 3 websites indexed: Yelp, Foursquare and UrbanSpoon. Hyperlinks are provided to the restaurant`s page on each of those sites for validation.