The short-term rental (STR) industry has experienced significant changes throughout the year 2020, and these trends are expected to continue well into the following year. Not surprisingly, any discussion of trends happening in 2020 is going to be dominated by the effect the coronavirus has had on all parts of our lives.
Hotel and STR Rentals: A Partial Rebound
When coronavirus cases began to surge in parts of the U.S., the impact on travel and hospitality was dramatic. Compared to the previous year, the revenue per available room plummeted in March and April as many areas went into lockdown. Condo and private home rental revenue nearly stopped completely, going down 97.1%, and hotel revenue was close behind with an 86% drop. By July, however, STR revenue had improved until it was just 27% below what it was in 2019, and hotels were only 6.2% below their revenue the previous year.
Although hotels are recovering their revenue by a slightly higher percentage, STRs are currently doing much better with regards to occupancy rates. Compared to 2019, STR occupancy is down 17.2%, while hotel occupancy is down 30.4%.
Travelers also want to stay at STRs for a longer time. The average length of an STR stay prior to the coronavirus was 4.5 days. This year, so far, the average stay has doubled to 9 days, and during the summer the average rose to a peak of 11 days.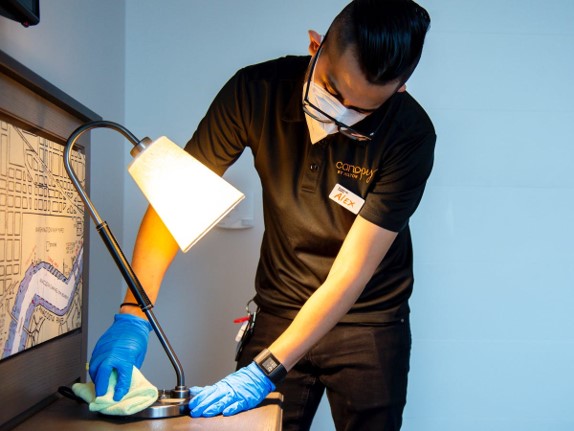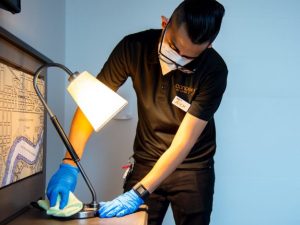 Redefining Safety
This year, travelers are redefining what it means to feel safe when they travel.
More of them feel that renting their own house will keep them safer than staying in a room in a hotel.
They are seeking out less heavily populated destinations.
They're also less likely to look for a quick getaway, and they're more likely to want a place to stay for a while to get away from perceived hot spots.
Hotels have been putting in the effort to present themselves as a safe and reliable option for travel. IHG, Marriott Bonvoy and other hotel groups have developed and promoted enhanced cleaning standards to reassure their guests. The travelers who are staying with them are relying on the security of having a professional staff and well-defined industry standards to keep them safe.
Other travelers are choosing STRs instead, for many reasons:
They don't want housekeepers coming into their rooms every day. They want to rent a place where either they will do their own cleaning, or one single host will come in to clean, instead of a revolving door of different staff members.
They don't want to be caught in an elevator with other people or have to pass by them in a narrow corridor. On a platform like Airbnb, they can pick out a site where they can step in from the outside, close the door and have the place to themselves.
STRs can also give them more room to stay in place comfortably. Pre-COVID, travelers might want to save money by renting a small room that they come back to just to sleep. Now they want a comfortable room where everyone has their own space, a private area outside, and amenities for working or even going to school remotely. They want to isolate, but they don't want to have to take a plane or a long car trip to get there.
The Geographic Shift   
This new, COVID-inspired desire to self-isolate is impacting where travelers are deciding to go. Some are still going wherever they would have gone before. However, many are choosing new destinations because of the pandemic.
Areas that are perceived as being more crowded are losing visitors, while more remote areas are gaining them. According to AirDNA, which compares state-level percentage change in new bookings from 2019 to 2020, New York had a 32% drop in new bookings, while Oklahoma had a 98% increase and Wyoming had a 92% increase.
Remoteness alone didn't guarantee increased travel: North Dakota fared much worse than South Dakota (-15% compared to +99%), perhaps because it was too far for most travelers who wanted to avoid flying. The markets that are doing best offer wide open spaces, often with beaches, desert resorts, mountain towns or lakeside cabins within driving distance of a major city.
This trend away from urban areas can also be seen among cities in the same state. In California, new bookings in Los Angeles are down 61%, which is the biggest decline in the state, but just two hours away in Big Bear City, bookings are up by 172%. The trend is reflected throughout the state:
Los Angeles       -61%                 Big Bear City                 +172%
Berkeley           -49%                 Big Bear Lake                +166%
San Francisco    -41%                 La Quinta                      +165%
Daly City           -38%                 Lake Arrowhead            +87%
Anaheim           -34%                 Palm Springs                 +84%

A similar trend occurred in Texas, where Austin saw a 2% drop in bookings, while Canyon Lake – less than an hour and a half away – experienced a 196% increase.
Coronavirus and the Year Ahead
Whether these COVID-19-influenced changes continue depends heavily on what happens with the state of the pandemic. If there is a large spike in cases, some people will want to flee from hot spots, but travel overall would be expected to drop.
If cases level off, we can expect to see the current trends continue.
If infection rates drop further, we might expect to see a gradual return to the previous patterns of travel from earlier years.
The IPO Effect on Airbnb
As we mentioned earlier, Airbnb is trying to reform its image and boost its valuation as it prepares for its imminent IPO. Not only are they instituting cleanliness standards for dealing with COVID-19, they now have a world-wide ban on party houses. In Los Angeles County alone they purged over 50 party houses from their listings, and last July they filed a lawsuit against a renter in Sacramento for hosting an illegal party.

Now they have also launched City Portal, which is meant to track down non-compliant STR operators in 15 cities in its initial pilot program. City planners can feel justified in being skeptical, as Airbnb is more profitable in unregulated environments. Municipalities are still advised to take matters of compliance into their own hands.
In conclusion, the STR industry has adapted to the pandemic, returning nearly to the same levels of occupancy as last year, but with different choices made by renters, while Airbnb tries to present itself as a partner to municipalities as they continue to work toward full STR compliance.
Recent Trends in the Short Term Rental Industry: Coronavirus and Beyond