The short term rental compliance industry has very recently sprung up as a major concern amongst cities and counties in North America.   The challenge of ensuring compliance is that many of the major short term rental listing sites do not fully identify the name of the operator/manager and address of the properties offered.  Host Compliance LLC has garnered a lot of press and publicity about offering services to help identify, monitor, and automate outreach efforts to these short term rental operators.  Here are three important facts that you should know before partnering with Host Compliance LLC:
1. They are not the only player as they would have you believe:  Below is a screenshot of their website where they make the claim they're "the only private company in North America providing turnkey short-term rental services to municipalities."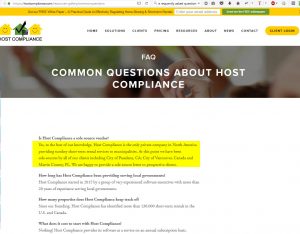 The facts are that Harmari Taxcrawler is an alternative to Host Compliance LLC, and our company LTAS provides that to several municipalities and states.  Harmari Taxcrawler provides a superior product with a very high reliability and accuracy of data.  Some jurisdictions we have talked to tried to do the identification and outreach in-house and they had up to a 20% inaccuracy rating on their mailouts.  You definitely don't want a tax bill going to the wrong house!  Furthermore, our price point is very competitive and can save your jurisdiction money.
2. They have a representative from the Tourism and Hospitality Industry on their Board of Advisors:  One member of their Board works at a consulting company that serves these companies.  Does the municipality believe that such a Board has a fair and impartial perspective on regulating short term rentals in the industry?
3. They are mercenaries with little regard for the outcome to the City:  If you don't believe it, watch this CBC Interview of the CEO who said this on national television.  He also said "enforcing a full ban is a waste of time". Then Host Compliance signs a contract with the City of Hermosa Beach to help identify and enforce a full ban on short-term rentals.  Host Compliance is talking out of both sides of their mouth; they think enforcing a full ban is a waste of time, yet they will gladly take a City's money if they try to enforce a ban with Host's data.  You can read all about Hermosa Beach's efforts enforcing an STR ban on the LASTRA blog.
If you wish to notify us of a current or pending bid for Short Term Rental Compliance and Monitoring, Data Analysis or Identification services, please fill out this form below and we will get back to you.