Be careful on your next booking on AirBnB, VRBO, Flipkey or other popular short term rental website.  Why?  Because now we have drop-hosters.  Don't believe me?  Take a look at these 2 AirBnB listings and tell me what's different:
There is nothing different about the short term rental that you're going to get when you book it; a nice lodge in ski country, Colorado!  But you will notice
different title
different host name
price is 30% higher on the drop-booking host!
Drop-hoster is a new term coined on the basis of the drop-shipper.  A drop-shipper will list an item for sale on ebay.com for $5, copy it word for word, list it on another website like shopify.com for $8.  Once an unsuspecting buyer purchases the item on shopify.com, the drop-shipper simply purchases the item from ebay.com with the ship-to information of his buyer, and pockets the difference.  The original seller gets paid, the buyer gets her item, and the drop-shipper makes a healthy profit being the middle-man for taking on no inventory risk.  It's well-covered on this eBay post.
Drop-booking works the exact same way, except with booking a short term rental.  Here is a tip to avoid overpaying for your next short term vacation rental stay:
Search a unique phrase in the listing body
These drop-hosters are out for a quick buck so they will make some quick changes to the listing so the original poster doesn't recognize their listing.  But if you pick out a unique enough series of keywords and add in some location info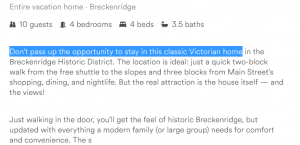 then see if the same verbiage shows up in the results page that points to the listing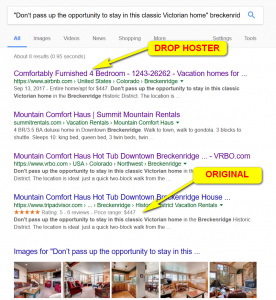 This quick tip can help you avoid paying an unnecessary markup on your dream rental stay.  It's almost like finding an online coupon that saves you 30%, except you're really avoiding the over-payment.   It will work anywhere, but you just need some deal-sniffing skills.
You may be over-paying for your next short term rental booking – watch out for drop-hosters!