Online classifieds make it very easy and quick for a shoplifter, a rogue employee, or a sophisticated cargo theft network to liquidate their ill-gotten merchandise for cash.  By using Harmari Search, you can investigate from the fence back to the crime.
Below is an example of a great lead found online of possible stolen appliances. It is examples like these that indicate an organized retail theft operation, or a possible cargo theft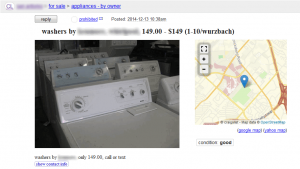 Possible examples of investigation:
correlate phone numbers of staff against ads with merchandise for sale from your store
look for leads on large volumes of new merchandise for sale
search geographically multi-state, multi-city within a certain radius of the cargo theft location
On a related note to loss prevention, read about the $7m second-hand gift card marketplace article on the LP Magazine portal.  All the information is based on data from the Harmari Search archive.