Facebook Marketplace is now a significant player in the crowded free online marketplace space. It is now competing against Craigslist, LetGo, OfferUp, AutoTrader, and many other classifieds websites, but it has the leverage of over 2 billion regular Facebook users. Facebook started the marketplace initiative as a primitive bulletin-board style Groups page. That list of ad-hoc groups has now expanded to over 50,000 Buy and Sell Groups still active, each with thousands of members. The constraints for an investigator to fight vehicle title fraud were that they had to request to join each groups since many of them were "private" and could not be searched without joining.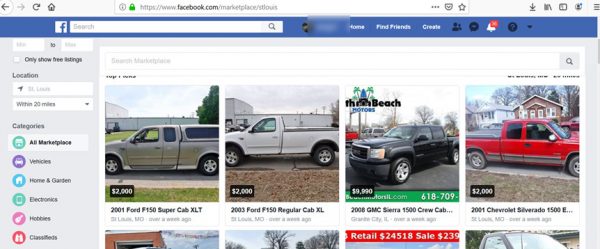 But now there's a unified page where you can search for items for sale on Facebook without having to join those groups. You can search anywhere in the world by visiting www.facebook.com/marketplace and then entering your location. Facebook Marketplace was made ever more attractive because it is free, and Craigslist began imposing a $5 fee to post an ad in the "cars and trucks" category in April of 2019. Many sellers and curbstoners moved to the free platforms to save on the fee.
With Facebook, the seller's phone number is usually not visible and all messaging / communication must happen in Facebook first before the seller arranges to meet the buyer. This challenge is compounded by when people abbreviate, use aliases, transpose names or use middle names on Facebook for their account. Ever wonder why there are 100,000 Mary Elizabeth's on Facebook? That's because people don't want their identity fully accessible online or they've had some unwanted contact on social media, resulting in obfuscation of their name.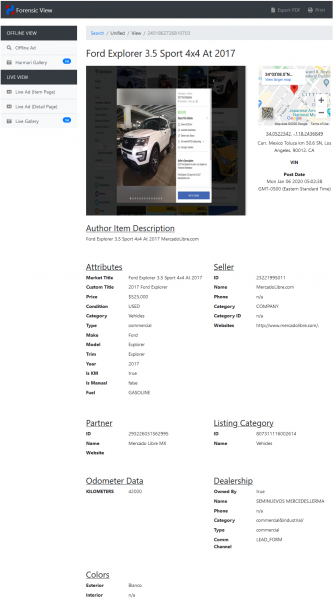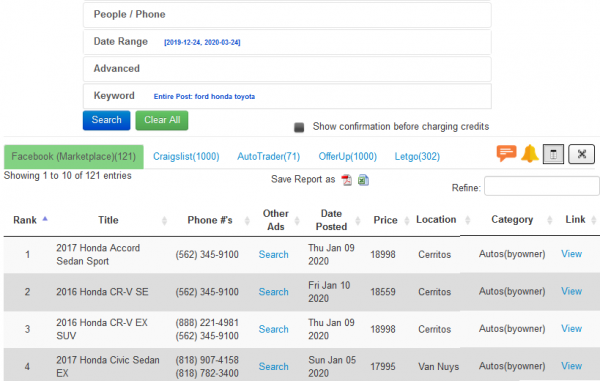 Overall, having Facebook Marketplace as part of the Harmari Search supported data sources is important for our customers. It supports searching by keywords, phone number, VIN, location, make/model/year and has a Forensic View of each ad and easy export to PDF, all the features you've been accustomed to from our other data sources. Contact Us to get started accessing Harmari Search.