For more than 2 years now, the world's established taxi services industries have battled online ridesharing, and ride hailing mobile apps such as Uber, Lyft, GrabTaxi, Didi Dache, and others.  Both Uber and Lyft each have 100,000 drivers retained as self-employed contractors, although their status as contractors is hotly contested in California (see CNBC article).  This presents a formidable force for the current licensing mechanism of taxi drivers in every major metropolitan area.  Some jurisdictions have successfully agreed to a compromise with Uber established as legal in Virginia.  In many other jurisdictions however, the legality of Uber is hostily debated and denounced.  Lyft recently won a battle for airport pickups at LAX as well.  Horror stories such as the Michigan killing rampage (and now counter-suing Uber), accusations of driver rape, and the ominous tracking of prostitutes' "rides of glory", and surge pricing are all headlines that plague these companies.
Investigating ridesharing service providers can be relevant to insurance companies as well for rate premium evasion (commercial vs. personal), law enforcement (assault, accident investigation), municipal regulators (licensing and compliance), and tax and revenue agencies (cash economy).
Harmari does provide its customers with ways to investigate potentially illegal ride-sharing services being offered in the US and Canada.  Here are the steps to do it after logging onto Harmari:
Step 1: Select Data Sources from the options – Craigslist, OfferUp, Facebook, or LinkedIn*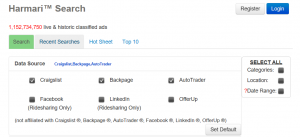 Step 2: Select relevant categories under Services: Automobile, Ridesharing, Labor & Moving, Travel / Vacation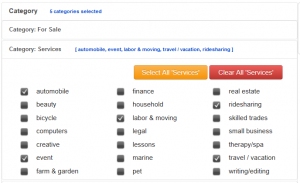 Step 3: Select your jurisdiction, which can be grouped by state, city or multiple cities and states.

Step 4: You have the choice to search for names, or phone numbers of specific ridesharing drivers under the People selector, or enter Keywords under the Keywords selector.  For the Name section, put the first and last name.  For Keywords use "taxi", "driver", "cab", "airport", "lift", "ride", "ride share", "rideshare", "chauffeur" plus keywords associated with the mobile service "uber", "lyft", etc.  Check off 'exclude duplicates' to eliminate the same post from the same person multiple times in the same week
Step 5: Analyze results. You can use Harmari's automated report generation that can background check these leads against licensed drivers lists in your city, or identify the drivers as you wish for enforcement action.
Contact us today to get connected with Harmari Search for ridesharing compliance.
* Harmari Search is not affiliated with Craigslist, Facebook, or LinkedIn