Mobile device-based buy and sell apps are exploding onto the Internet.   Although only 3 are featured on this page, be on the lookout for more.  All apps described below can download it from the App Store or Google Play.
One popular app is VarageSale.  Your account is created by logging into it with your Facebook account.  You can join your city's page and buy and sell items easily from your phone.  Each community has a moderator which grants access to those wishing to join.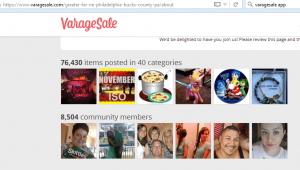 Another popular mobile platform is OfferUp.  Although you can download the app, it does have desktop-searchable features for investigators who need to find stuff and don't want to or can't download anything.  After using it, it seems like a combination of Twitter and Craigslist but it has a respectable following.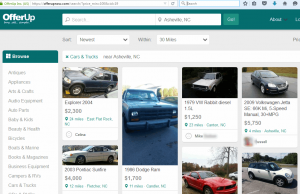 Third is the Close5 platform.  It does not have a desktop-searchable interface, you can only download the app onto your phone / tablet.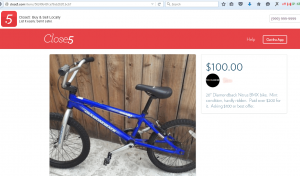 These mobile buy and sell platforms have several advantages to the classic Craigslist free classifieds website:
the most obvious is the mobile-compatible easy-to-thumb-scroll interface that's very much lacking on Craigslist which seems to be stuck in the 1990's
there's no insane battle for the top of the page like on Craigslist, because you'd have to get a second phone, download the app again, create a second fake profile and post it.  That's a bit too much headache for most people.
no identifying information is disclosed on either side until both sides are willing to meet and transact
you can leave feedback for the buyer or the seller afterwards
it's a little easier to differentiate a business from a private seller.  For example, if you're interested in purchasing a vehicle from someone you can see if he has other vehicles at the same time.  If so, then chances are he is a curbstoner.
That being said, buyer beware rules still apply: do not accept cashier's checks, do not wire money, meet the other party in a well lit public area, and if it's a vehicle, make sure to get a Carfax, or have a mechanic check it.  Some police departments are volunteering their police stations for a safe transaction point.
Here's an early look at the popularity of these sites, and it looks like OfferUp is in the lead on all metrics for now. To put this in context, Craigslist's Alexa rank in the USA is 11.

| Mobile Platform | Alexa Rank (USA) | Apple AppStore Ratings | Google Play Downloads |
| --- | --- | --- | --- |
| OfferUp | 2241 | 14502 | 123599 |
| VarageSale | 4471 | 3786 | 28167 |
| Close5 | 52294 | 1526 | 13086 |