The Top 10 Report grew out of a need for investigators to quickly review high-value leads of sellers on Craigslist based on specific category, keyword, or identifying parameters.  Secondly, we now prefer to have data pushed to us rather than having to search it ourselves.  These two critical needs are combined in this new Report delivered to your Inbox daily.
The first step is to setup your parameters.  The example below is how to setup a Top 10 for Apple products for sale in New York:
Parameters that you can setup include:
up to 5 keywords/keyphrases which can include common searches and their synonyms and variants
for People search, up to 5 different phone numbers, emails, and names
receive reports daily, weekly or monthly
select Look Ahead period up to 10 days for daily emails, 6 weeks for weekly emails, and 6 months for monthly emails
Sort results based on total $ value, or total number of ads.  All key identifying information is extracted out.
The second step occurs when you receive your Top 10 Report by email.  Open the attachment in either PDF or XLS format.  Below is an example of the results that you can expect to see: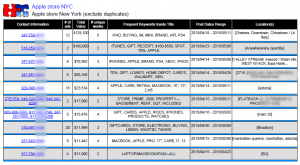 The third step is to click on the Contact Information link on the left for a lead you are interested in reviewing. It will open up Harmari Search for Craigslist where you can investigate further.
The Top 10 Report is a major head start in the battle against:
Cargo Theft
Burglary and Property Crime
Underground Economy and Tax Evasion
Unlicensed Contractors
Inventory Shrink / ORC
Auto Theft / Chop shop
Odometer / Title Fraud