What if the same person was selling / parting out multiple stolen items?  What about items stolen from the same retail store, or warehouse or burglarized from a house?  How could an investigator sift through thousands of ads efficiently to find the culprit?  Harmari Hot Sheet directly addresses this need for Craigslist ads.  A 3-step process makes it easy to find suspicious ads in almost no time, and Hot Sheet takes into account many factors in correlation of ads.
Enter multiple search items from theft report, and click Analyze Items.  The example below is geared towards retail loss prevention
Review results for correlated sellers, and click on the Matched Field for the suspicious ads of interest
Drill down to individual ads to uncover additional clues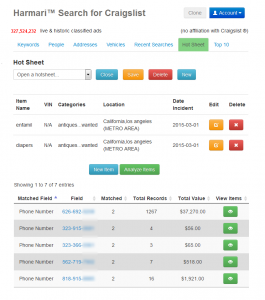 Can you imagine doing this work manually?  It would take hours if not days, but with Harmari Hot Sheet, it takes literally seconds!
Here's another example below of Harmari Hot Sheet in action to look at some suspicious motorcycle ads.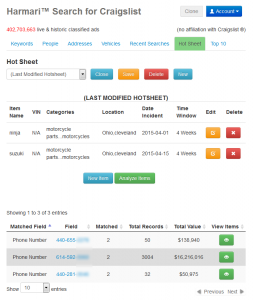 Harmari Hot Sheet can be applied to investigations involving:
Cargo Theft
Burglary
Inventory Shrink / ORC
Auto Theft / Chop shop
Odometer / Title Fraud