With the latest release of Harmari Search for Craigslist, an investigator can focus in on activity within a certain region of interest.  For example, a loss prevention officer can check whether high-value gift cards or stolen products may be posted for sale within 1 mile of a store's retail location.  This is all easily accomplished by using Harmari Search in Address mode:
Step 1. Click the Address tab, select all under the Categories > For Sale section, or select a few categories of interest
Step 2. Items stolen from a retail store are usually "new condition".  Check "new condition" under the Advanced tab
Step 3. Put in the store address e.g. the retail store zip code and select a radius of 1.0 miles or less, as shown in the screenshot.  Click Search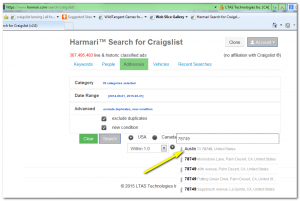 Step 4. Sort and refine the results as indicated in this post, and start looking for suspicious content such as:
new merchandise for sale below market value
multiple items for sale in the same ad
repeats of the same phone number with different items for sale (as shown in screenshot below)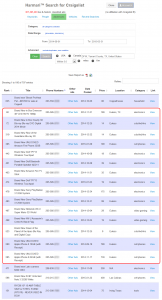 Step 5. To see the full history of ads from that seller, select Other Ads and the popup will show how many are stored in Harmari.  Click Yes to see more.