Recent changes to the Craigslist site have a major impact on how effective investigators can search for fraudulent and suspicious activity on the site.
Firstly, any phone numbers that are displayed in the content of the ad are hidden from view. The reader has to click "show contact info" for the phone number to appear. The good news is that these phone numbers can be reverse looked up through a Craigslist keyword search. The bad news is they will not be searchable via Google or any other aggregate search engine. Here's a sample ad with the hidden phone number under the bubble.

Here's the same ad with the bubble removed: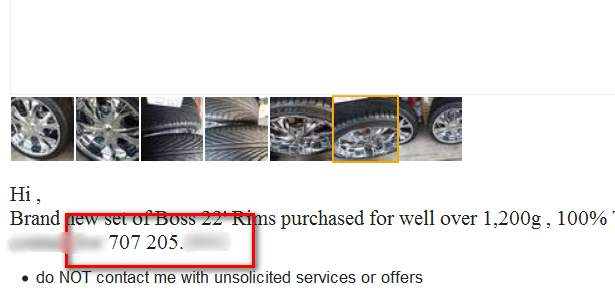 The second change involves the Reply/Contact button.  If the button at the top of the ad says "Reply" there is only an email address displayed.  But if the button says Contact, then there is a phone number, or email, or a first name displayed.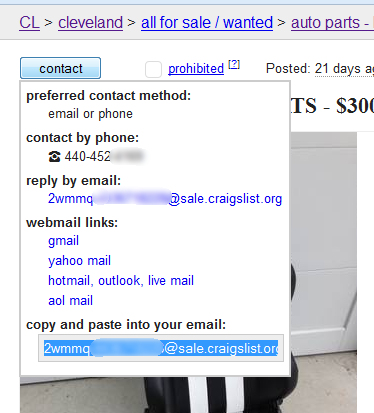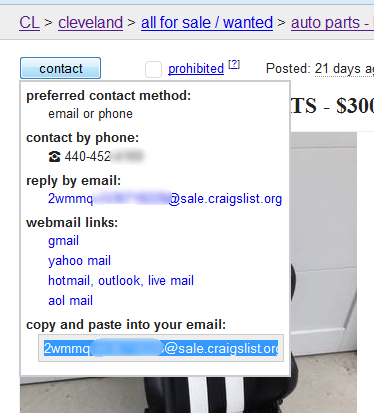 The phone number behind the Contact button is not searchable within Craigslist:
Here are some statistics we recently compiled about the percentage of ads and if/where the ads contain the phone number, based on about 750,000 ads:
| | |
| --- | --- |
| Location | Number of Ads |
| Within Contact Button and Ad Body | 162938 |
| Within Contact Button and not in Ad Body | 247160 |
| Within Ad Body and not in Contact Button | 98013 |
So what this means is when you keyword search for phone numbers on Craigslist, you are missing at least 37% of the ads. You might miss even more ads if you do not search all the common types of phone number formats being used, and doesn't include spelled-out phone numbers.
Harmari Search is the only comprehensive search tool that can capture all phone numbers everywhere. This includes all formats, including spelled-out format.